Everything You Need to Know Before Your Virtual Kitchen Design Consultation
Virtual project design lets you create the design of cabinetry for the project you are working on while relaxing in your house.
Virtual kitchen design is the perfect marriage of custom design and science fiction. More homeowners are working from home and having to wear all the different hats that go with their daily activities and perform all without leaving their castle. The home used to be a sanctuary, a haven where peace and tranquility reign. Now homes are a school, an office, a daycare center, and a diner. This is where the Virtual Cabinet Project comes in to help. Adding anything new to the calendar could make your head spin. You can't even fathom booking a consultation with a cabinet designer. Well, you no longer need to leave your house to get the kitchen of your dreams. It's now possible to "meet" with a designer in a virtual setting. Here's what you need to know:
Virtual Design Is Super Convenient
Traditionally, remodeling your kitchen meant meeting with a designer face-to-face. You would have to block out an entire day to drive to their office, only hoping you'd remember to bring along everything needed. Not only would you set aside your time, but you would also need to fill up the gas tank, find childcare, and get together all the ideas you have for your project.
Virtual design changes everything you know about designing a custom kitchen. Instead of getting lost in rush-hour traffic, the designer will connect with you on an online platform. We have found Zoom to be the best platform to use while designing.
Although you won't physically be in the same room as your designer, they can still interact with you in real-time. Before the process starts you will be sent a Designer Questionnaire form to fill out and have handy for the meeting. During the process, you'll take the designer on a tour of your existing kitchen, and you'll even see their smiling face on a video screen. You'll be able to express your desires along with the questionnaire you filled out and talk about a budget. Best of all, you'll watch as the designer "builds" a 3D model of your new kitchen right before your eyes.
But how does this process benefit you? Since you won't need to leave your house, it doesn't matter if your two-year-old chases the dog across the room. If you need to get up extra early to make breakfast, you can cook as we talk. And most of all, you don't need to take a day off from work as we can Virtually design at any time.
Virtual Assistance Leads to More Useful Measurements
What's the worst thing that can go wrong when designing a cabinet project? Inaccurate measurements. Unfortunately, most people have the ability to measure their project but don't understand the importance of the measurements and why they are taking them. This leads to incorrect or omitted measurements.
Being off even a fraction of an inch can leave you with cabinets a design malfunction. After delivery, you may find yourself tearing off the trim or removing the tops to make them fit. However, you won't have to worry about these errors during a virtual consultation.
Even though the designer won't physically be in the room, they can still see everything. They'll guide you through the measurement process, checking and double-checking your readings. That way, you'll know without a shadow of a doubt that your new cabinets will fit like a glove.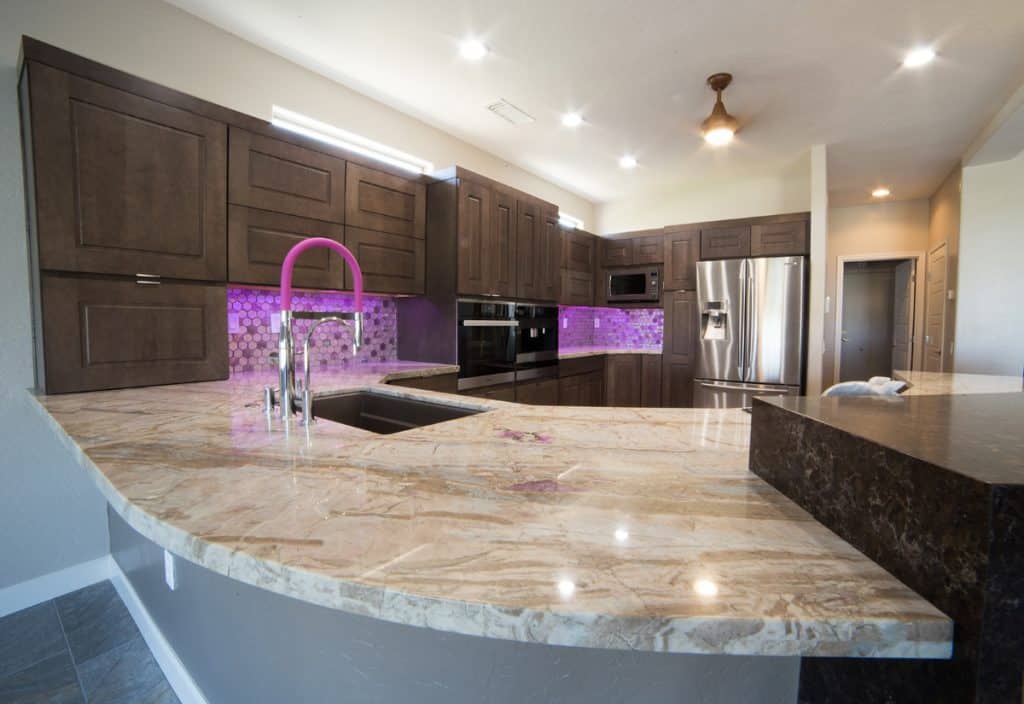 The Homeowner's Virtual Checklist
Of course, since the virtual process involves inviting the designer "into" your home, there are a few things you'll want to prepare in advance. Before you connect online, make sure you check off all the items on this list:
Have a measuring tape: Since the designer wants accurate numbers, we use a 25'or 30' tape measure.
Clear off the countertops: No, your kitchen doesn't have to be spotless, but it wouldn't hurt to clear the countertops. When we measure we do not want you to accidentally knock anything over.
Find a charger: Virtual meetings tend to run long, and laptop or tablet batteries aren't always up to the challenge. Make sure you know where you last put your charger, so you don't disconnect in the middle of your consultation.
Think about your wish-list: The Design Questionnaire will give you some ideas for your wish list and you may have others not on the list. Write them down to go over with the designer but it shouldn't surprise you if they have some creative ideas up their sleeve to fulfill your wishes more cost effectively.
Come up with a budget: Only you know your financial situation. Cabinets can range from super cheap to mega expensive. Before your appointment, run some figures in your head and come up with a number that seems the most reasonable. We ask for a budget to design an outcome with the best quality product and functional features that fit within your price point. By doing this it will expedite the meeting and the designer won't be showing you something that is out of your price range.
Trust Your Virtual Cabinets with a Skilled Professional
Custom designing cabinets takes talent, skill, and experience. With over 49 years of industry experience, BarrWood Cabinets knows how to transform your kitchen from drab to fab. And best of all, we can do it virtually! Contact us to schedule a FREE virtual kitchen design consultation with our cabinet design professionals.
You don't need to leave your home to get the kitchen you've always wanted. Click to learn why virtual kitchen design is the way of the future.